Andrea Bravo: "Presenting data with an AR device […] creates an emotional connection with data".
Spanish-born Andrea Bravo is a PhD Fellow at DTU, Engineering Systems Design Group, specialized in the niche of hybrid presentations with AR and VR. Dansk IT has had the pleasure of meeting Andrea for a talk about her research.
On the 14th of September Andrea Bravo will do a presentation on 'Hybrid presentations with data in AR' at Dansk IT's facilities in Copenhagen. Therefore, Dansk IT has had the pleasure of meeting Andrea beforehand for a talk about her research. She has enlightened us with her great knowledge of hybrid presentations, immersive technologies, such as Augmented reality (AR) and Virtual reality (VR), and with the communicative aspect of presenting data.
Please tell us a little about yourself, your research at DTU, and why you have chosen this career path.
My name is Andrea Bravo, and I am a PhD Fellow at DTU, Engineering Systems Design Group, where I specialize in the niche of hybrid presentations with AR and VR. I have a background in visual and information design, user experience, cognitive science, and immersive technologies.
I am very passionate about my work and research. I am extremely curious, too. When combined, those two qualities put me in a position where I am eager to continue learning and where I am open to new professional opportunities that may arise. I think those two qualities, combined with the possibility of deepening my understanding of data visualization with immersive technologies (my PhD topic), are probably what led me to DTU in Denmark in the first place.
If I may be honest, however, I would not say that I chose this career path. Instead, life led me to this path. Initially, I started my career as a visual designer, having studied visual communication design. Then, I worked in advertisement in Barcelona and later in fashion and branding in Paris. In the years spent in Paris, I started an artistic-scientific collaboration with a biomedical scientist to showcase his research visually with photography and data visualization skills.
This collaboration introduced me to the areas of technology and healthcare. I became so passionate about it that I decided to get further education on the topic. Therefore, I completed a master in cognitive science and interactive media at Pompeu Fabra University in Barcelona. This master changed my vision in terms of how I wanted to work with communication – it became more technology and research based. I think it is fair to say that my master opened new doors for me, as I was given the opportunity to both design and research in immersive environments. Eventually, I got this position at DTU, where I am now specializing in the niche of hybrid presentations with AR and VR.
My research focuses on data visualization and data storytelling with immersive environments to better understand the implications of combining different technologies for the communication of data. It is an area of research that is fairly novel. I am sure a lot of people still have not heard about it.
In case you are new to the terms mentioned above, I will provide you with a short definition of them. Immersive technologies include VR and AR. In VR, the users are surrounded by computer-generated information, and they do not interact with the real world. AR overlays computer-generated information, such as objects, onto the real world. Data visualization is the graphical representation of information and data.
A lot of research has been done on information presentation (that is a field in itself). However, only recently information presentation merged with immersive technologies has attracted interest.
What is a hybrid presentation with data?
Basically, it is the combination of virtual and physical media within the same presentation. A presentation has a unified narrative. This narrative includes several communication channels, and some of them may be documents and AR. This is what I work with and research. If you are using both documents and AR in the same presentation, you need to take both into account. In other words, when designing a presentation both elements must make a coherent entity.
"Immersive presentation," "immersive visualization" and "Information presentation," – do these terms relate to "hybrid presentation"?
Yes, they certainly do. Immersive presentation is a presentation made with immersive technologies such as AR or VR. When using AR or VR, the audience is transformed from being spectators to being participants. In other words, the presentation is not something they simply watch and/or listen to, it becomes something they participate in. Moreover, the message is transformed from something they understand to something they experience. Immersive visualization is a visualization made with AR or VR that may include interaction with data. Information presentation is a research area that focuses on how we present information.
What are the advantages of using technological devices with AR, such as Microsoft's HoloLens, in information presentation?
Some of the advantages of presenting data with an AR device, such as Microsoft's HoloLens, are that you have the audience and data in the same space: It creates an emotional connection with data, an engagement within the audience, and a sense of "presence" or "being there".
Are there any implications of using AR in information presentation?
Every time we use AR - whether it is in a "hand-held device" (such as a mobile) or a "head-worn device" (such as HoloLens) - it is important to consider the affordances and the limitations of the technology in question.
Using novel technologies may present two sides: While they might be very attractive and foster engagement and direct attention, they may also distract from the content presented. Simply, because they are too "attractive", the focus will be on the technologies rather than on the content you present. In other words, there is a delicate line between the advantages and the implications of using AR for information presentation. Additionally, you will need to consider the resources for building a presentation with AR – there will be an extra cost of hardware and software. Therefore, it really needs to provide value to your business and the case you are presenting. There is no one-size fits it all.
How do you perceive the future of virtualization of data?
The question seems to be referring to the digitalization processes of data, and I do not have the expertise in this area. What I am targeting is the presentation of information with immersive technologies - not digitalization of data! Data is increasingly being digitalized but as mentioned, I do not research on that. In relation to my area of expertise and to the use of AR, new devices are expected to be released by the end of the year and in the upcoming years. This will democratize the use of AR to the general public, as they are expected to be affordable to the general consumer. What is interesting is that it may change the way we start to interact with information and data in our environment. Indeed, it will be interesting to see how the general public will respond to these new devices that will become new ways of presenting information and data.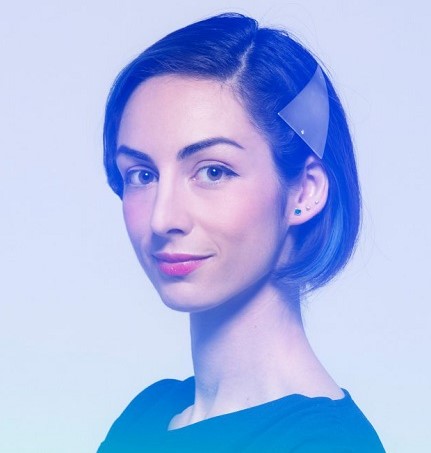 This concludes our interview with Andrea.
On the 14th of September, Andrea will do a presentation on 'Hybrid presentations with data in AR' at Dansk IT's facilities in Copenhagen. The presentation is exclusively for the members of Dansk IT's networking group BI, Big Data & Analytics. Andrea will introduce the topic of hybrid presentations with data for supporting project communication and negotiation processes. In addition, she will present a demo of software for presenting data visualization in AR using HoloLens. We are sure that the always curious members of BI, Big Data & Analytics will have a lot of questions for Andrea after her presentation. Andrea has let us know that she will be more than happy to answer them.
Keep yourself updated on the latest research on and talk about Business Intelligence
If you work with Business Intelligence - Big Data og analytics – and you are searching for a networking group that fits in with your professional situation, we have the right one for you.
Being a member of the networking group BI, Big Data & Analytics will inspire you to create partnerships that will be mutually beneficial, and thus increase your bottom line. David M. Andersen from Insightex facilitates the networking group, and the meetings are held in Danish.
You can apply to participate as a guest in the group's next meeting in September, where Andrea's presentation will take place. The meeting will start with Andrea's presentation. Afterwards, the members will go ahead with their usual "round the table talk". This will give you an opportunity to see if the networking group is the right one for you.
Please contact Camilla Kimmie Madsen (+ 45 31 72 46 63 / ckm@dit.dk), if you want to sign up for the meeting or know more about BI, Big Data & Analytics.